---

Page Boxes
---
PDF documents feature five boxes that determine their content and appearance. They are the Media Box, Crop Box, Bleed Box, Trim Box and Art Box: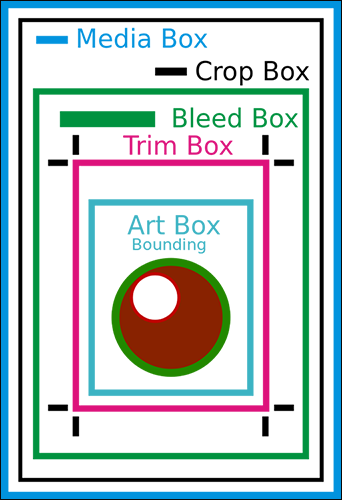 Figure 1. Document Boxes
PDF-XChange Editor uses four of these boxes:
Crop Box
The Crop Box defines the region to which page contents are clipped when displayed or printed. Programs use the dimensions of this box for screen display and printing. Unlike the other boxes, the Crop Box has no defined meaning in terms of physical page geometry or intended use - it merely imposes clipping on page contents. However, in the absence of additional information, the Crop Box determines how the page contents will be positioned on the output medium.
Bleed Box
The Bleed Box defines the region to which the contents of the page are clipped when output in a production environment. This may include the "bleed area" needed to accommodate the physical limitations of cutting, folding and trimming equipment. Usually the Bleed Box is three to five millimeters larger than the Trim Box. When a page is printed it may include printing marks that fall outside the Bleed Box. The default value of the Bleed Box is the value of the Crop Box.
Trim Box
The Trim Box defines the intended dimensions of the finished page after trimming has taken place. As opposed to the Crop Box, the Trim Box is very important because it defines the actual page size. Programs use the Trim Box as the basis for positioning pages on a press sheet. The default value of the Trim Box is the value of the Crop Box.
Art Box
The Art Box defines the extent of the page's meaningful content (including potential white space) as intended by the page's creator. The default value for the Art Box is the value of the Crop Box.
These boxes can be viewed/edited in the Crop Pages dialog box: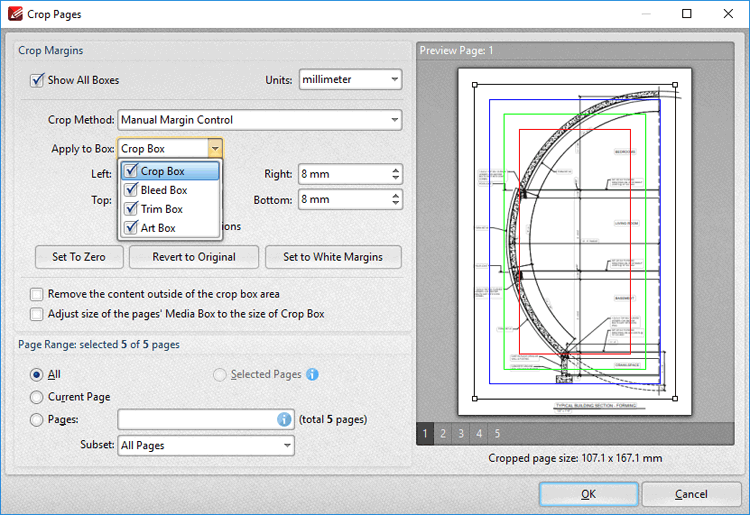 Figure 2. Crop Pages Dialog Box
Click Crop Pages in the Crop dropdown menu of the Organize tab to access these settings. Further information on document boxes is available here.
Note that the Loupe Tool contains a feature that can be used to display page boxes.
---